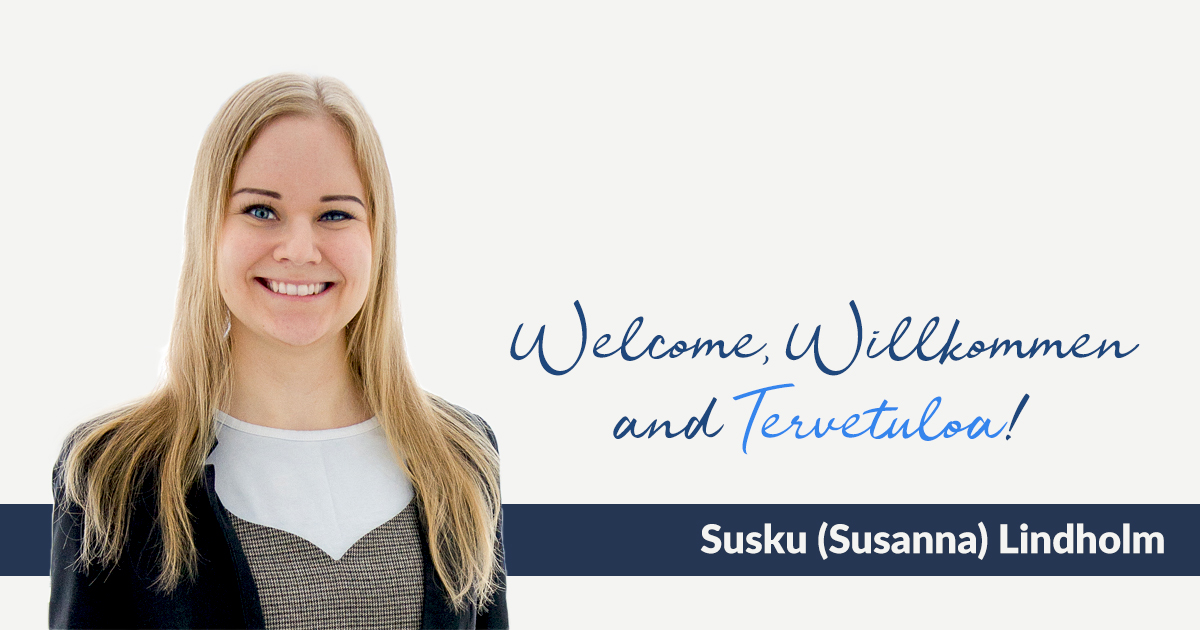 Susku (Susanna Lindholm) has just relocated from Finland to the U.S. to support gatc LP in Business Development and Marketing. The time to arrive has been quite…extraordinary because of the current situation. Susku has been doing great regardless the circumstances and is getting oriented at gatc LP. She answered some interview questions to give a briefing about her new role.


Please tell us, who is Susku?
Susku: "International lady! I have lived in 7 countries: Finland, Germany, Belgium, South Korea, China, India, and the U.S. (New York and now Atlanta). I am very much into international business and intercultural organizations. I have a Master's degree in Business Management and my dream is to run an international company someday. I have worked in many fields, both private and public sector. For example, European Parliament in Brussels, AmCham in New York, Sunon Group in China, Embassy of Finland in New Delhi, and a lot for Finnish companies. I have worked in Marketing, Sales, Communications, Business Development, HR and Payroll Accounting."


What brings you to Georgia?
"Gatc! I am very excited about the business idea of the company. Gatc LP is a German-based company helping foreign companies to the American market. I have a close relationship to Germany: I started learning the language about 20 years ago. I have some relatives in Germany. I also lived there 1.5 years when completing two student exchange periods: one in Lüneburg and one in Münster. Most of gatc's clients are German and we have mostly bilingual staff here in the U.S. That is a perfect way to practice business German and learn about German and American business cultures."


What goals do you have for your time in the U.S.?
"In addition to learning languages, I am curious to get an understanding of the differences in German and American ways of doing business. It is valuable and latent knowledge that is useful in international business. Our goal is to help foreign companies to understand the differences and challenges in the American market. It is like some sort of international consulting. Compared to chambers, gatc has taken it to the next level: we offer subsidiary establishing in the U.S. That means, we offer our clients the whole package: administration, management support, HR, accounting, financial services, marketing, order processing, logistics and warehousing. The service package is tailored for each client's needs. Some clients take the whole package, and some run some parts of the operations themselves. We also offer business premises here in the U.S. At our headquarters, we have shared workspaces with our clients. Usually, the clients want to keep their sales function by themselves and send their sales representatives to our shared office. We offer all the other business functions here and our slogan is: "We are YOU in USA."


How is the situation there right now? How is COVID-19 affecting your life?
"We are living extraordinary times. It was hard to imagine that something like this would happen. I got to the country on the last day when it was still possible before the ban. The situation is changing rapidly: new rules are appearing every week, sometimes starting even on the same day. People should stay home as much as possible. Some counties in Georgia have started a "shelter-in-place" order. Also gatc is taking the situation seriously and everyone who can is working from home. Our operations are still running and for example warehousing is continuing - as it is seen as an essential business. I have been positively surprised to notice that our team is doing so well despite of the remote working! We are holding our meetings virtually and have good communication channels. I believe a situation like this can make us even stronger and strengthen the team. It is important to stay positive. The situation is challenging but together we can make it!"


We like your attitude! It is great that you can stay enthusiastic and enjoy the experience in the U.S., even if the time is challenging. Thank you for the answers and welcome once again!
"Thank you! I am sure I will. The time is good for developing communications and marketing functions. When the situation gets better, I will also be involved with events, networking, and trade show organizing. I hope that will be soon, because I am already eager to meet all the people, clients, potential new clients, and business partners - not only virtually but also face-to-face! Let's hope for the best and (hopefully) see you soon!" 

- Susku -