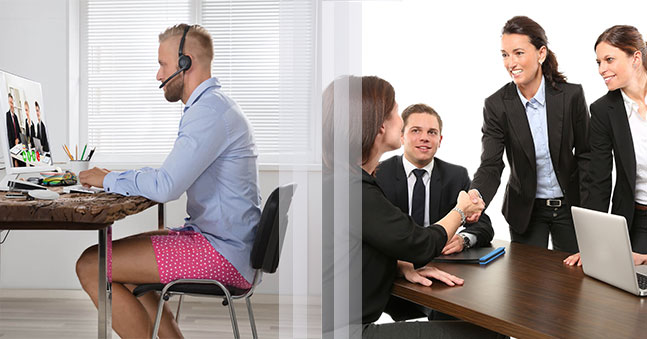 Photo: Werner Heiber (Pixabay)
2020 has been quite exceptional so far. The sudden Corona crisis was unforseen and changed the ways of working rapidly. Many companies started to practice remote working, gatc LP as one of them. With the new situation, working from home has revealed to have both positive and some negative effects.

We asked our employees to evaluate their experience so far. The results are surprising!

Positive: Some of the gatc LP team members are happy that remote working enables more time for family, pets, hobbies, cooking and a bit more sleep per night. Taking care of personal things such as receiving packages has become easier and it is nice to wear more comfortable clothes at home. Some employees have good premises for a proper and quiet home-office. Online tools like Microsoft Teams make asking questions and getting answers easy and fast. More online services and webinars are available, and people get more used to video calls. Everyone is happy about less commuting, which saves time and money. On a large scale, less commuting and travel could also mean less emissions and being more environmentally friendly. Some people feel that working from home is more efficient because of less distractions and interruptions. Task scheduling is swift and increases productivity in some cases.
Negative: Some of the positive experiences are actually the opposite for others. For them, home is not an ideal place to work. Some have noisy neighbors; some feel pets and children disturb their work and others feel uncomfortable for having video meetings with their home in the background. Not everyone has ergonomic office solutions at home, which may cause back pain due to the lack of suitable chairs or desks and sitting down for too long, because of less interruptions. The Internet speed, screen sizes and IT equipment are also not always as good as at the office. 


The biggest issue among most respondents though is the lack of social interactions. People feel that online communication is not quite the same as face-to-face communication. Working from home means fewer personal interactions with co-workers, clients or business partners. Especially extroverted personalities suffer from the lack of direct conversations and social events. Small delights, such as breakfasts together with the co-workers are missed. Emotional expressions are transmitted better through face-to-face vs. online. There are several research articles about the differences between real and virtual communication. For example, gestures and body language give important signals in face-to-face communication, which makes it easier to interpret. Text is the hardest way to interpret messages due to the lack of vocal tones and other signals, causing a higher risk of misunderstandings. Negotiations e.g. are much more challenging online compared to in-person meetings. 


The office seems to be a better place to work also for people who need routines to balance their work. Some employees are so focused when working at home with no interruptions that they forget to take breaks. Some are so concentrated that they accidentally work later than usually. The line between work and spare time has became blurry. There is also a big difference in the experiences between singles and people with family. While families are happy to spend more time together, singles feel lonely and isolated. 


The positive effects might lead to increased remote working in the future, but it still might not be for everyone. Various factors will probably play a role in finding the right balance. Plus of course, the nature of work itself has to make working remotely even possible. According to Business News Daily, 70% of people find maintaining relationships with their co-workers as important as the job itself.
Gatc LP employees are already looking forward to seeing everyone again, including our clients, who we share office space with. Nothing beats the daily personal interactions and great conversations.  Even if remote working has become more popular during the crisis, we still believe in the importance of face-to-face communication and having a place such the office to do so. 


Gatc LP wishes everyone sunny spring days and hopes to get back to the office soon!